Added : 1 week ago:
Total View : 70
https://www.flipkart.com/lg-260-l-frost-free-do...
What is the offer?
Extra Rs.1000 Instant Discount with All Debit Cards, Credit Cards, NetBanking & Credit
EMI Transactions on purchase of sold by the
Seller Omnitechretail and BTPLRB on the Platform.
What is the offer duration?
May 22nd, 2020 (00:00 hrs)
to May 27th, 2020 (23:59 hrs) (Offer Period).
How do I check if a product is an Eligible
Product?
This
offer will be applicable on selected products under refrigerators.
You can
check the list of all offers applicable on a product, on the product page. This
offer will also be listed there, if the product is eligible for the offer.
Will I get the offer if I pay using a Debit
or Credit Card via PhonePe?
No, offer will NOT apply on payments made
from Debit and Credit Cards via PhonePe payment option.
Will I get the offer if I pay through
Flipkart Gift Card partially?
Yes, you can avail the offer. In this case,
offer will only apply on the amount paid through Debit Cards, Credit Cards and
NetBanking against the eligible product(s).
How many times can this offer be availed?
There is limit of 5 times on the number of transactions.
TERMS AND CONDITIONS
PRELIMINARY:
·
This Offer (defined below) is being run by sellers on
flipkart.com , Omnitechretail and BTPLRB, which Platform is owned and operated by Flipkart Internet
Private Limited ('Flipkart').
·
By participating in this Offer, user ('You',
'Your' or 'Customer') agrees to be bound by:
·
these terms and conditions ('T&C'); and
·
the Terms of Use, Privacy Policy, Terms and Conditions for Gift
Cards (www.flipkart.com/account/gi...rd) and other relevant documentation
including any modifications, alterations or updates thereof, that are published
on the Platform.
OFFER DETAILS:
·
Offer is valid from May 22nd, 2020 (00:00 hrs)
to May 27th, 2020 (23:59 hrs) (Offer Period).
·
To avail this Offer You must do/ fulfil the following:
·
Age must be 18 years or above;
·
Must have a valid account on the Platform and log into the same;
·
Purchase products sold under refrigerators
·
Purchase of Product/s must be made by using your valid and
current credit card /debit card ('Card'), Net banking or EMI
transactions.
·
In case of partial payment made using Flipkart Gift Card/ Wallet
or due to realization of exchange offers, discount will be valid only if the
amount paid through Card is Rs.4,000 or above.
·
Upon fulfilling the above requirements, you will get an instant
discount of Extra Rs.1000 Instant Discount (Maximum Discount Per Card of INR 1000) on the
total amount spent or the amount paid by Card (in case of partial payment or
partial cancellations made as per the T&Cs) in each of the applicable
categories subject to a maximum discount ('Offer').
OTHER TERMS AND
CONDITIONS:
·
Offer not applicable to Card on delivery transactions and/or
payments made through PhonePe UPI.
·
In case of complete cancellations, you will not be eligible for
this Offer. If you cancel part of the order, you will qualify for the Offer
only on the net amount paid, basis eligibility.
·
Flipkart does not endorse the Products and will not accept any
liability pertaining to the quality, merchantability, fitness, delivery or
after sales service of the Products, which shall be at the sole liability and
responsibility of the Seller.
·
Pictures of Products shown in the communication sent either
through mailers or displayed on the Platform, are representative only and may
not bear a resemblance to the Products. None of the parties shall under any
circumstances be responsible towards the same.
·
Sale of Products on the Platform is subject to availability with
the Sellers and accordingly Flipkart in no circumstances shall be liable for
non-availability of any of the Products.
·
Under no circumstance will the discount being offered under this
Offer be settled with cash in lieu by Flipkart or the
·
Flipkart reserves the right to disqualify You from the benefits
of the Offer, if any fraudulent activity is identified as being carried out for
availing the benefits under the said Offer or otherwise.
·
Flipkart will not entertain any correspondence regarding the
validity or acceptability of any additional benefits offered by the Sellers and
the same shall be at the sole risk and consequences of the Seller and without
reference to Flipkart.
·
All government levies etc. shall be payable by you as applicable
at the time the respective Offers were offered.
·
This Offer shall be subject to all applicable laws, rules and
regulations which are in existence and which may be promulgated anytime by any
statutory authority.
·
This Offer shall be governed in accordance with the applicable
laws in India. Courts in Bangalore shall have the exclusive jurisdiction to
settle any dispute that may arise under this Offer.
·
You are not bound in any way to participate in the Offer. Any
such participation is voluntary and the same is being made purely on a best
effort basis.
·
Any query regarding the Offer will be entertained only till 10
days from the day of delivery of the Product. Post such date Flipkart will not
entertain any correspondence or communication regarding this Offer from any
persons.
·
Flipkart reserves the right, at any time, without prior notice
and without assigning any reason whatsoever, to add/alter/modify/change or vary
these T&C or to replace, wholly or in part, this Offer by another offer,
whether similar to this Offer or not, or to extend or withdraw it altogether.
·
Flipkart or the Seller shall not be liable for any failure by
bank/ UPI facilitator to honour/ facilitate your transaction or for any
technical issues because of which the transaction made by you is unsuccessful.
·
You shall indemnify and hold Flipkart and concerned Seller
harmless against all damages, liabilities, costs, expenses, claims, suits and
proceedings (including reasonable attorney's fee) that may be suffered by
Flipkart or such Seller as a consequence of:
·
Your violation of these T&C, of the terms of user agreement,
privacy policy (subject to change) as mentioned on the Platform;
·
Your violation of applicable laws; and
·
Any action or inaction resulting in wilful misconduct or
negligence on your part.
·
This Offer is valid only in India.
·
Further, as required by applicable law, if You make a purchase
of an amount equal to or above INR 2 00 000.00, You will be required to upload
a scanned copy of Your PAN card on the Platform, within 4 days of making the
purchase, failing which, the purchase made by You will be cancelled. The
requirement to submit the PAN card arises only once and if it has been
submitted once by you, it need not be submitted again. Your order will be
cancelled if there is a discrepancy between Your Name and the name on the Pan
Card.
·
This document is an electronic record in terms of Information
Technology Act, 2000, and the Rules there under as applicable and the amended
provisions pertaining to electronic records in various statutes as amended by
the Information Technology Act, 2000. This electronic record is generated by a
computer system and does not require any physical or digital signatures.
---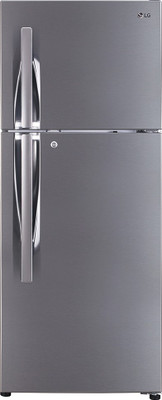 ---
More About Product :
LG 260 L Frost Free Double Door 3 Star (2020) Refrigerator(Shiny Steel, GL-I292RPZL)
Smart Inverter Compressor
3 Star : For Energy savings up to 35%
Toughened Glass Shelves
260 L : Good for families of 3-5 members
Built-in Stabilizer
2020 BEE Rating Year
---
More Similar Products :
---
Steps to Get this Deal
1.Click on SHOP NOW Button Or
Click Here
to open deal page 2.Add item in cart (click on add to cart button) 3.If asked to login, then login or create a new account. 4.Enter address and other details. 5.Proceed to chechkout6.Select the payment method like Credit Card, Debit Card, Net banking or Cash on Delivery or according to offer terms mention on above or on deal page 7.Complete the Checkout (Make the final payment)
---
Subscribe
Subscribe to our newsletter to get the Latest Deals right to your inbox.
---
---